Batin and Yogot communities in Heipang district, Barkin Ladi local government area of Plateau state are currently in a state of mourning following Thursday early morning invasion of their communities by terrorists.
This foundation gathered that no fewer than 21 persons including women and children were brutally murdered by the terrorists suspected to be Fulani militias.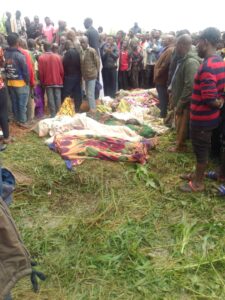 According to an eyewitness who gave his name as Obed, the attackers came into Batin community at 1:10am on Thursday, shooting sporadically as the villagers scamper for safety.
"My house is very close to the houses that were affected. We heard the first gun shots at exactly 10 minutes past one.
"They short sporadically and killed 17 people here in Batin. They burnt some of the victims to death.
"When they were retreating, they stopped at Yogot, another community not far from the Airport and killed 4 persons.
We are currently digging the grave to bury the victims" He said.
Condemning the killings, Plateau State Governor, Barr. Caleb Manasseh Mutfwang, said he is "deeply saddened by the bloody attack that claimed several lives in the Heipang community of Barkin-Ladi Local Government Area."
Mutfwang also strongly condemns the recent attacks in some villages in Mangu Local Government Area where more lives were lost.
In a press statement signed by his media aide, Gyang Bere, the Governor appealed to security agencies to redouble their efforts and put an end to the senseless killings of innocent people in the rural communities of Mangu and Barkin-Ladi.
The Governor described the deteriorating security situation in some parts of the state as unfortunate and called for greater collaboration between community leaders and security agencies to prevent further attacks.
The Governor also expressed his sympathy for the affected communities and families of the deceased, assuring them of government's commitment to addressing the issues.
Thursday's attack is coming at the heels of countless similar attacks in Mangu where over 300 persons have been killed between April and July 2023 according to data released by the Para-Mallam Peace Foundation.
In July, the Nigerian Army moved its operational base for Operation Safe Haven to Mangu in a bid to put an end to the attacks in the area. That effort has yielded some results as Mangu has been relatively calm in the last 3 weeks.
Today's attack further shows that the terrorists are now picking new soft targets to attack knowing that Mangu has been militarized by the military.