After Killing and Displacing us, Fulani now Occupy our Ancestral Communities: Riyom IDPs Cry Out
Internally Displaced Persons at the Riyom IDP camp in Riyom local government area of Plateau state have cried out to the government to assist them in reclaiming their communities under the occupation of Armed Fulani Herdsmen in the area.
The IDPs from different affected communities in Riyom made this call during a humanitarian intervention visit organised by The Gideon & Funmi Para-Mallam Peace Foundation on Saturday August 12th 2023.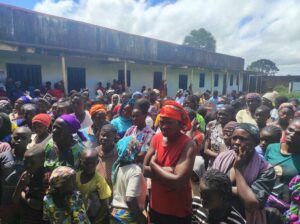 Some of the IDPs who said they've been displaced from their communities since 2014 appealed to the government to help get them back to their communities so they could live a normal life again.
The displaced persons numbering over 2,000 said the herdsmen who attacked their communities are now the occupants of some lands in their communities. They said they cannot return back to their communities because the herdsmen have built houses there.
One of the IDPs who gave her name as Amina Yakubu (not real name) told this reporter that her community, Attakar under Ganawuri ward is now under the occupation of the Armed Fulani Herdsmen that attacked the area in April 2023.
"It all started in the fourth month of this year, when the Fulanis came to our community and killed 18 people.
"My husband, Yakubu and son Emmanuel were killed during the attack and since then we were forced to leave the community because the attackers never stopped coming.
"Right now I had to do menial jobs at the mining site to cater for myself and the remaining 3 children." Teary Amina said.
A community leader, Saleh Bayana, also corroborated Amina's claim. He said in his community, Shonwan under Bakki district, the herdsmen have also built their houses there.
"I used to be the Mai Angwa of my community but since 2014 when we were attacked and displaced, no one has been be able to go back there. The Fulani now live there with their cattle.
"They've built normal houses and are living there, we dare not go near there." He said.
It is estimated, that about 60 villages have been occupied by the Fulani herdsmen in Riyom and neighboring local government areas of Plateau state.
This is not the first time victims of these attacks have alleged occupation of their farmlands and communities by herdsmen. In 2020, survivors of herdsmen attacks in communities in Kajuru local government area of Kaduna state alleged that their communities were occupied by the herdsmen that attacked the area.
Todays revelation by the IDPs gave a new understanding of the violence on the Plateau and other areas in the Middle Belt of Nigeria. It shows that the violence are not just clashes between farmers and herders as widely reported in some sections of the media but also a well calculated attempt to dispossess the indigenous people of their ancestral lands.
The Gideon and Funmi Para-Mallam Peace Foundation is a household name in Plateau and neighbouring states affected by violence. Speaking at the occasion, an Associate Staff of the Peace Foundation, Nenfort Gonchen, who addressed the IDPs said that they are not alone, stressing the fact that God is with them and that the world is with them.
"We are here today not just to present these relief materials to you but to also tell you that you are not alone in your hour of adversity. God is with you, the Para-Mallam Peace Foundation is with you and the world is with you.
"We bring you a message of hope from Jos and we want to encourage you to remain steadfast and prayerful as we continue to trust God that you all would soon return to your respective communities." Nenfort said.
The items delivered to the IDPs include 35 blankets, 4 bags of garri(90kg) 3 bags each of rice, beans and maize (90kg).
Reported by: Steven Kefas.